I took a photo this morning of all of my oils in my cupboard and was astonished to see how many different types of oils I have and have been reflecting how confusing this has to be for parents with children.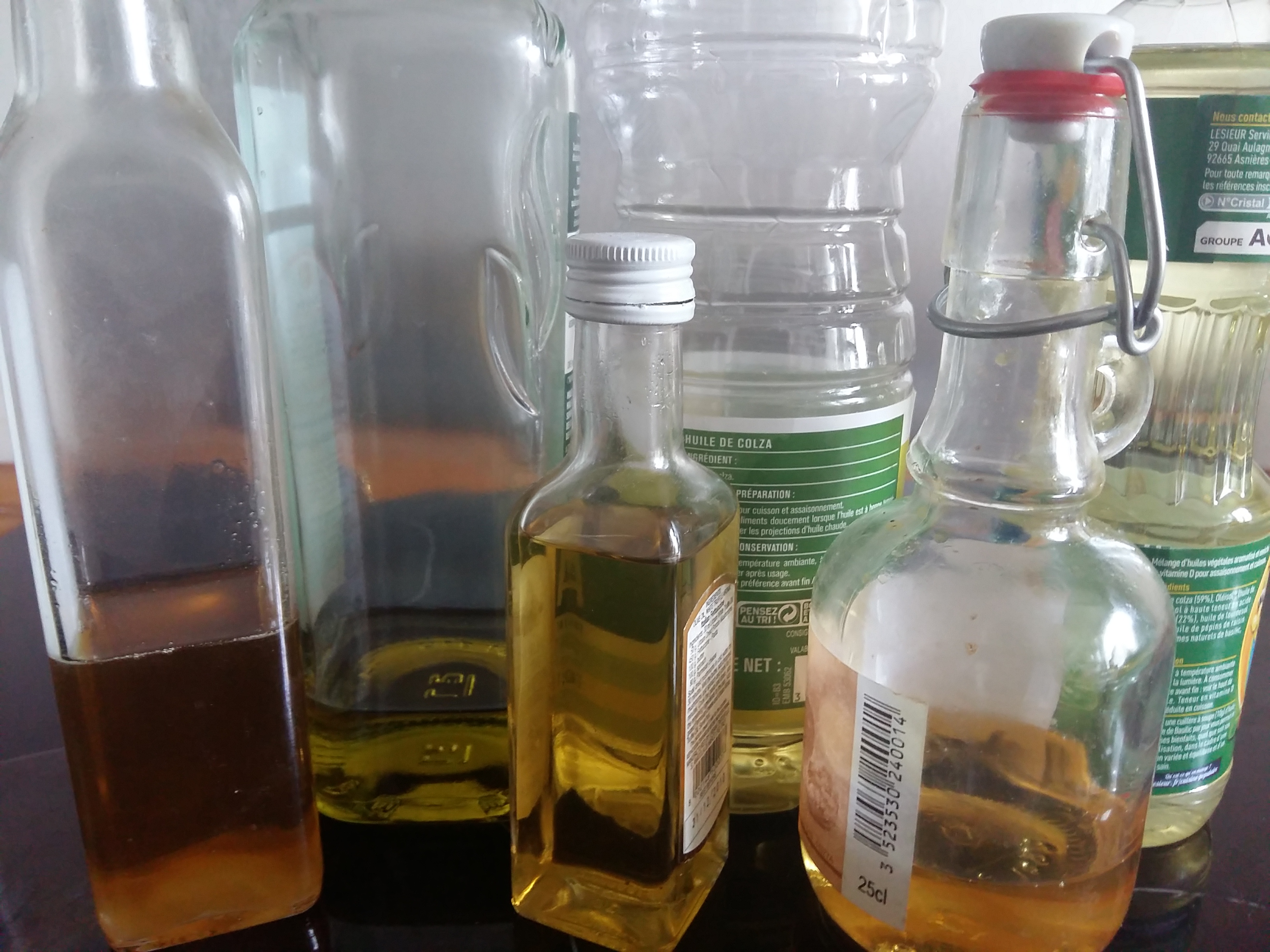 When I qualified as a dietitian, saturated fats (i.e butter, animal fats) were bad and we started to use plant fats (i.e. sunflower oil), in fact this was recommended by all international cardiovascular associations as the oil/fat of choice. However a couple of years ago, trans fat were highlighted as a contributing factor in cardiovascular disease, diabetes and even cancers.  This is a type of unsaturated vegetable fat that has a trans configuration (instead of a more common cis configuration) that occurs through an industrial process that adds hydrogen to liquid vegetable oils to make them solid. This occurs in particular with low fat products and also with heating at very high temperature. So, now we have palm oil that is replacing hydrogenated vegetable oil in products and many have switched to coconut oil/fat as fat source.
So first of all, both palm and coconut oil are saturated fats, so they are in the same category nutritionally as animal fat (like butter and like the fat on a piece of steak). I have heard so many times from my parents in clinic that they have been told that coconut oil/fat is an essential fat, which is absolutely not the case. The fact that we should be worried about palm oil, in particular in regards to our environment, I have written about in a previously published article, so this is not one I come across in my clinic a lot. Palm oil a possible health and environmental dilemma – Rosan Meyer Oil seeds Focus March 2017
However, this still leaves parents in a situation where they ask themselves what their child needs. I always like to go back to breast milk, which is just the most wonderful food every for children. The World Health Organisation recommends breast feeding until 2 years of age and breast milk contains around 50% fat. So this is really an important nutrient for children.
Children (and adults) require a mix of saturated (animal based fats and yes also coconut fat/oil), polyunsaturated (these are your rapeseed oils, sunflower oils) and monounsaturated fats (like olive oil). Essential fatty acids, are those that the body can not make themselves and you have to ingest them. These are your omega 3 and 6 fatty acids – omega 9 is not essential as this can be synthesised through other fatty acids. The omega 3 and 6 fatty acids fall under the category of poly unsaturated fatty acids and can be subdivided further in a couple of types of omega 3 and 6 fatty acids. This is also confusing, as many people think that omega 3 for example from rapeseed oil is the same as omega 3 from oily fish, but they are in fact very different type of omega 3 fatty acids and you need both (so one does not replace the other).
So to make it practical, children need fat, and they need them from all categories of different types of fats as they have different physiological roles. If your child has a non-vegetarian diet, its likely that they already have enough saturated fat from meat  and full cream milk products. In regards to the oils that you are using, I would vary between different polyunsaturated ones (sunflower/canola/rapeseed) and olive oil (or avocado oil which also is high in monounsaturated fatty acids) and most importantly not forget about oily fish. In a breast fed child, mothers intake of omega 3 fatty acids influences the content of breast milk. In formula milk fed children, omega 3 fatty acids (and other fats) are highly regulated to ensure children get enough. Otherwise, current UK guidelines is to aim for 2 portions of oily fish per week in children (portion size of their little hand palm) and to avoid shark, marlin and swordfish because of the mercury content. See FSA advice on mercury.
I will write about the pro's and con's of frying foods as this covers a totally different emerging area in a future blog.